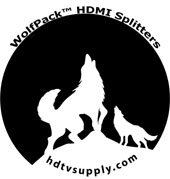 HDTV Supplys WolfPack
1x10 HDMI Splitter
uses a single HDMI source and send it to ten HDMI TVs. It allows one HDMI device to be split easily to ten HDMI compatible monitors or projectors. In addition,it can be placed at the end of a long HDMI cable to regenerate the HDMI signal. The resolution of this HDMI splitter can be up to 4K or 3840x2160/30Hz.
NOTE:
This product has been discontinued. See the above SIMILAR Tab for equivalent products or, if not there, call us at 800-841-9238 right now to discuss your needs.
HDTV Supplys WolfPack
1x10 HDMI Splitter
is the perfect solution for anyone who needs to send one source of digital high definition video to multiple displays at the same time. It supports all HDMI equipment, such as DVD players and satellite set top boxes and all HDMI displays. HDMI (High-Definition Multimedia Interface) is a digital point to point interface for audio and video signals.
A
8-level User Adjustable EDID learning function
is added to increase its compatibility to any HDTV, unlike cheaper units that you have to guess or drops their EDID that causes problems with older TVs, HDMI to CAT5 extenders, long boosted HDMI cables and mixed TV resolutions.
WolfPack 1x10 HDMI Splitter Features:
Connects up to ten HDMI/DVI displays at the same time to one video source
Allows simultaneous displaying of audio and video
Maintains high resolution video - beautiful, sharp HDTV resolutions up to 1080p and 4K at 30 Hz
Inputs: One (1)
Outputs: Ten (10)
Support high resolution up to 3840X2160/30Hz
Support 3D video format
Support CEC (only output1)
Support highest rate of 3.4G and TMDS clock can be up to 340 MHz
Support 8/10/12 bit deep color
Support an AWG24 HDMI standard cable input up to 15 feet and an HDMI output up to 25 feet other wise go over CAT6 extenders.
Support one single HDMI source,accessing to multiple HDMI sinks, the source can be DVD player, A/V receiver, set top box and etc.
Optional Built-in IR extension function(via the IR-RX of HDMI repeater to control the HDMI sources)
Support serial port online upgrade
Support EDID management
225 MHz (up to 12 bit YUV 444 @ 1080p)
Deep Color
Color Space Conversion
Dolby TrueHD and DTS-HD Master Audio
Lip Sync
HDCP compliant
In operation, the digital video source is connected to the distribution amplifier on one side. On the other side, ten HDMI outputs are available to be used in part or in full. Once the unit is connected and powered, your source is routed to up to ten digital displays at the same time.
For home theater applications, the unit is HDCP (high bandwidth digital content protection) compliant, making it effective for use with all HDMI displays. HDCP is a standard "key" encoded into the HDMI signal to prevent video data from being pirated. HDCP was strongly endorsed by the entertainment industry. If a source device is HDCP coded and is connected to a HDMI display or projector via HDMI without the proper HDCP decoding mechanism, the picture is relegated to "snow" or in some cases, a very low (480P) resolution. In order to see protected content, the source, the display and any device in between must be equipped with HDMI connections that can enable HDCP using "software key" decoding.
How It Works:
Simply connect your HDMI video source to the WolfPack 1x10 HDMI Splitter input using the supplied HDMI cable. Then connect up to ten HDMI displays to the unit's ten HDMI outputs. Once connected and powered, your source will be seen on all ten displays at the same time.
Why not buy this WolfPack 1x10 HDMI Splitter today?