Features
This $7,000
16x48 Component Matrix Switcher
is like new and refurbished and has a 3 year warranty. It is a 16 component video input matrix switch with 48 component video outputs to feed high definition video. Because it is a matrix switcher, it allows any input to be routed to any output; or the same input to be routed to all outputs, or any combination.
Since it is made up of 3 - 16X16 matrix switchers in the unlikely event of a failure you always have 32 TV's working during the repair. If you need to matrix switch analog right and left audio also see the above companion analog audio matrix switch.
Please read the specs at
16x48 Component Video Matrix Switch
as they are the same.
We have only 2 - 16x48 Component Matrix Switchers available at the $1,000 off our new price and then no more. They were used in our lab.
Why not buy this 16x48 Component Matrix Switcher today?
Q/A
Q: What is ZeroKey control?
A:
There is no remote control that comes with the Colorado as the remote control interface can use ZeroKey infrared code cloning to map any remote control key to each of the inputs and outputs. ZeroKey technology is compatible with virtually all remote controls, and does not interfere with the normal operation of the remote. ZeroKey programming is stored in flash memory, and you will not need to reprogram even if you lose power. If you buy a new remote in the future, don't worry, the Colorado can be reprogrammed as much as you like.
Warranty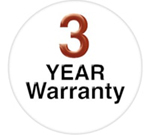 HDTV Supply
includes a 3 Year Limited Warranty on all Colorado products. The warranty states that (a) its products will perform substantially in accordance with the accompanying written materials for a period of 3 years from the date of receipt and (b) that the Product will be free from defects in materials & workmanship under normal use & service for a period of 3 years.
In order to get a warranty replacement for a defective Colorado, HDTV Supplys Support Team will verify the product is eligible for warranty. An RMA number will then be issued. Shipped replacements will be in like new conditions, tested and all components included.
HDTV Supply
also sells a 5 Year warranty for all Colorado products. Please go to
5 Year Extended Warranty
or see the above Options to purchase it.