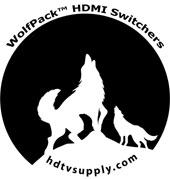 HDTV Supplys WolfPack
16x16 Component Video Matrix Switch Over CAT5
is an component video switching platform with 16-BNC component video inputs switching to 16-BNC component video outputs. It allows any input to be routed to any output, or the same input to be routed to all outputs, or any combination.
NOTE: This product has been discontinued. See the above SIMILAR Tab for equivalent products or, if not there, call us at 800-841-9238 right now to discuss your needs.
The 16x16 Component Video Matrix Switch Over CAT5 is a high performance and professional video and audio signal switching matrix for devices that has component video outputs like a cable box, satellite box, DVD player, etc. and TV that have component video outputs. Mainly used in sports bars, restaurants, radio and television areas, multimedia conference rooms using large screen displays.
16x16 Component Video Matrix Switch Over CAT5 Features:
16 Component BNC inputs
16 Component BNC outputs
16 in and out audio connectors
Can be used for RGB, RGBHV and YPBPR
Supports resolutions up to 1080p
19" rack-mountable
<100ns switching delay
Front panel and RS-232 control
integrated on-site power protection function
The RS232 communication port provides and a convenient way to work with a PC or lots of 3rd party control equipment (not supplied)
Infrared remote control function
Electrostatic port protection
Convenient to cancel the current switch state and return to the first time working state with the special UNDO function.
Convenient operations with preset storage/call functions.
Our 16x16 Component Video Matrix Switch Over CAT5 uses a high performance processing and buffer chip assuring the output is more stable, that the images are clear with no shadows. It also includes and embedded intelligent control and management software via its RS232 control interface. With PRO Ultra-wideband with gain compensation and synchronous signal correction technology, switch faster, no flicker-free.
Why not buy this 16x16 Component Video Matrix Switch Over CAT5 today?