Features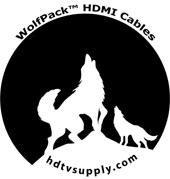 Specs
This WolfPack 10 Foot HDMI Cable Features:
Huge 24 AWG (gauge) internal pure copper wires
Signal bandwidth: 18 Gbps
Nominal impedance: 100Ω
Nominal capacitance: 115.9pF/m
Insulation resistance: 10MΩ
Nominal attenuation: 300KHz-825MHz at 8dB, 825MHz-2.475GHz at 21dB, 2.475GHz-4.125GHz at 30dB
HDMI (3D, Deep Color, x.v.Color, Dolby True HD, and DTS-HD Master Audio), Full 1080p resolution
4K@50/60, (2160p), which is 4 times the clarity of 1080p/60 video resolution
3D video, Deep Color and x.v. Color
Dolby True HD, DTS-HD Master Audio, Atmos and up to 32 audio channels for a multi-dimensional immersive audio experience
Up to 1536kHz audio sample frequency for the highest audio fidelity
High bandwidth for high speed data transfer
HDMI-CEC system control compatibility
HDMI Ethernet Channel (when used with HDMI Ethernet channel supported source and sync equipment)
ATC Certified
Temperature rating - 80˚C
Operating temperature - -20˚C - 80˚C
Storage temperature - -20˚C - 80˚C
Packaging - Polybag
Conductor 1 (5 pair):

Conductor Type - 24AWG (7/0.127), Copper
Insulation - Foamed PE SKIN, Red/White, Brown/White, Blue/White, Green/White, Black/White
O.D. - 1.05mm
Drain Wire - 24AWG (7/0.127), Copper
Shield - Aluminum Foil, 125% Coverage

Conductor 2 (4 conductors):

Conductor Type - 24AWG (7/0.127), Tinned Copper
Insulation - HDPE, Yellow, Red, Green, Purple, O.D. - 0.7

Overall Cable:

Foil Shield - Aluminum Foil, 125% Coverage
Braided Shield - 16/10/0.12, CCAM
Jacket - PVC, Black, O.D. - 7.3 0.2mm

Connectors (2)

Connector Type - HDMI - Type A
Plating - 1c– Gold
Dimensions (HxWxL) - 13.0 x 21.0 x 39.0mm
Why not buy this WolfPack 10 Foot HDMI Cable today?
Compatibility
HDTV Supplys 24 gauge HDMI cables supports Dolby Atmos which is a new audio format for creating and playing back multi channel movie soundtracks. It was developed to give movie sound a more three-dimensional effect. Traditional 5.1 and 7.1 channel surround setups deliver captivating sound using speakers placed all around your room and only our HDMI cable supports it.
3D
HDTV Supply is a leader in supplying 3D equipment for this new, fast growing 3DTV market. Our test lab includes the latest equipment for designing, testing and supporting 3D video equipment. The HDMI 2.0b cable supports the below 3D formats and work with many of our HDMI 1.3.HDMI 1.4 and HDMI 2.0 compliant devices. This device supports these 3D formats:
Side-by-Side 3D Format
Top-and-Bottom 3D Format
Blu-ray 3D Format
Frame packing
and more
We not only test this device with lab equipment we also test many of our 3D devices with 3D products you are likely to use. The products used for the test are:
Sony PS3 with the 3D 3.41 firmware
Samsung model PN50C7000YF 3DTV
Samsung model BD-C6900 3D Blu-ray player FORCED to 1080p
Samsung model SSG-P2100T 3D glasses
DirecTV models HR21-100 and the HR24 high definition receiver.
This HDTV Supply true HDMI 2.0b cable
It works with all HDMI devices including the new 3D units.
The 3D viewing results were awesome in our lab and did not have any picture or audio degradation. The normal and standard (2D) results equally exhibited a superb picture quality.
Why not buy this WolfPack 10 Foot HDMI Cable today?
Q/A
Q: What is the difference between a "Standard" HDMI cable and a "High-Speed" HDMI cable?
A:
Recently, HDMI Licensing, LLC announced that cables would be tested as Standard or High-Speed cables.
Standard (or "category 1") HDMI cables have been tested to perform at speeds of 75Mhz or up to 2.25Gbps, which is the equivalent of a 720p/1080i signal.
These High Speed (or "category 2") HDMI 2.0 cables have been tested to perform at speeds of 340Mhz or up to 10.2Gbps, which is the highest bandwidth currently available over an HDMI cable and can successfully handle 1080p signals including those at increased color depths and/or increased refresh rates from the Source. High-Speed cables are also able to accommodate higher resolution displays, such as WQXGA cinema monitors (resolution of 2560 x 1600).
Why not buy this WolfPack™ 10 Foot HDMI Cable today?
Warranty

HDTV Supplys HDMI 2.0b Cable is designed and built to the higher standards for your home theater or business use. To demonstrate that HDTV Supply products offers world-class quality HDTV Supply offers the original purchaser a full lifetime hardware warranty on this HDTV Supply product. This means that as long as a customer owns this product and can show original proof of purchase, HDTV Supply, or its supplier, will replace it if it malfunctions. A 30-day RETURN also comes with this warranty as well as Free Lifetime Tech Support.
In order to get a warranty replacement for a defective item, HDTV Supplys Support Team will verify the product is eligible for warranty. An RMA number will then be issued. Shipped replacements will be in like new conditions, tested and all components included.
Why not buy this WolfPack™ 10 Foot HDMI Cable today?
Ask a Question
Questions & Answers

Ask a question about the 10 Foot HDMI Cable - HUGE 24 Gauge w/4K, HDR, HDMI 2.0b & HDCP 2.2 Compliantcy or Call 833-WOLFPACK (833-965-3722)